Photo gallery...
The results of the Village consultation exercise conducted in March 2005 are shown in the table below.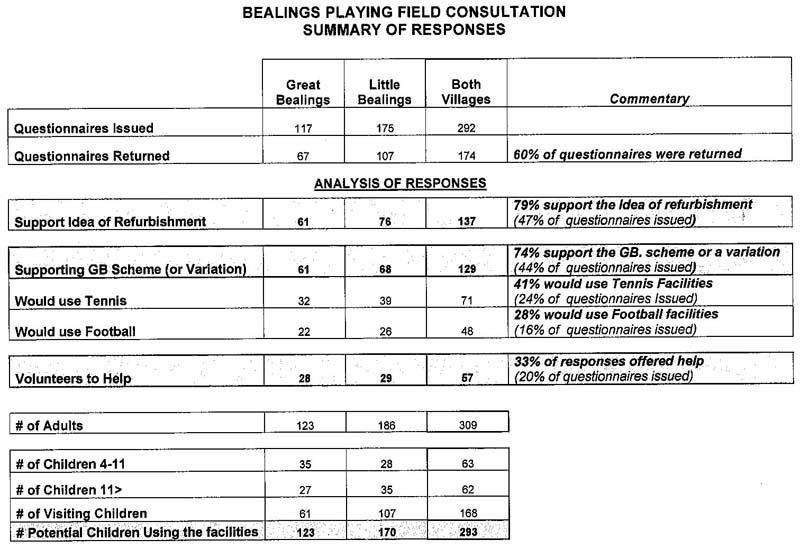 The findings will be reported to Great and Little Bealings Parish Councils at their forthcoming Parish meetings, and the recommended proposals for the draft scheme as suggested below, presented to all interested parties, at a Special Joint Parish meeting at a time to be agreed shortly.
THE SCHEME AS CURRENTLY PROPOSED
A joint initiative between Great and Little Bealings parish councils to upgrade the current playground facilities behind the Village Hall, has led to the commissioning of a draft scheme from landscape design consultants Grass and Grounds Inc. of Brundish, Nr Woodbrige. They presented their ideas to a joint meeting of both Parish Council committees, and the Village Hall management committee on November 15th 2004. The draft plan and the scope of the scheme will be presented to both villages as part of a wider consultation exercise planned for January and February 2005. Any comments on the scheme are welcome, and should be addressed in writing to either Parish Council, and will be collated by the Working Party, and fed back the design consultants. If the response is positive, a final scheme will be agreed, and fund raising will start in earnest. So far, the costs for the site survey and the draft design have all been met by money allocated to Great Bealings PC from Cllr Steven Hudson's Locality Budget. Steven is our local Suffolk County Councillor, and we are most grateful for his support with this project.
Click here for small diagram plan. Click here for full size diagram plan.
PLAN NOTES
The purpose of the enclosed Interim plan is to give a graphic and easily read impression of our proposals for the Bealings Amenity site. This plan is not produced to scale nor intended to represent an absolutely true position on site, but is sufficiently accurate in proportion and position to show how the proposed area will work as a unit. An approximate indication of North orientation can be found by following centre line of tennis court to top right hand corner of plan.
Five a Side Football Pitch
Under the rules of small sided football, the minimum dimensions of a pitch can be anywhere between 25 meters x 16.5 meters and 50 meters x 35 meters. Dimensions of proposed pitch on site are 42meters x 25meters. This size of pitch is generous enough for competitive team play. Positioned within the required North to south Axis parameters.
Standard construction five a side goals permanently fixed in position at each end. We advise nets to be kept separately and fitted for pre-arranged matches.
To one side of the pitch we propose to erect a full size goal for practice/fun purposes, and areas to both sides prepared and maintained to facilitate corner taking practice. The position of full sized goal marked F/SIZE on plan. Posts shown are representational only, and will be smaller in proportion to pitch. Excavation will be required to level the area set aside for the football pitch. Spoil from this excavation will be utilized elsewhere on site, including the earthwork "berms" shown on the site plan, and described in more detail later. The area will be reseeded with an appropriate grass type. Provision would have to be made for line marking equipment to enable volunteers to mark out pitch.
Tennis Court
Tennis court to be of standard single court dimensions (23.77 meters long x 8.23 meters wide) with required safety area outside marked court. Court surface to be of a Porous Macadam all weather type. Supplied fully marked and equipped. Surrounding the court will be standard chain link fence for safety and practical reasons. Access by lockable gate. Beyond the fence a Cordon Sanitaire to discourage weed growth up and through the chain link fencing. As with the football pitch there will be a requirement to excavate and level. Treatment of spoil will be the same as above.
Adventure Playground
An activity centre mainly for children aged 11 onwards, to be constructed within the boundaries shown on the enclosed A3 plan. A "Ring fence" of round posts to separate the area from the football pitch to the south, ungated opening facing low level play area. Adventure structures should as much as possible be constructed of wood and recyclable material. Suggestions include Zip line (basically, two structures over three meters in height joined by a length cable which can be traversed by holding a handle which slides along cable-see example illustration page). Other structures could include Monkey bars and High Climbing frame with Scaffold Walks (lengths of scaffolding tubes positioned parallel to the ground which children crawl or shuffle over) and Tarzan Swing over a pit We propose a basketball area i.e. hoop and hard area to be included in the designated adventure area and marked on the plan with letter B. It has been suggested that a simple shelter be constructed inside or next to adventure area to provide cover from sudden rainfall. This could simply be a canopy built off the top of fencing.
Picnic Area
The site of the old playground equipment on the ridge overlooking the car park would make an ideal picnic area, a quiet space away from the main site amongst the many established trees. The site itself requires little work apart from removal of derelict chain link fencing, and remnants of old play equipment. Also, trimming of vegetation and unnecessary tree growth, mainly Sycamore, is suggested. Some general site leveling and re-seeding would be of benefit.
Area to be furnished with picnic tables (3) with integral seating, secured to the ground.
Patio Area
The ridge overlooking the village hall to be cleared and the site marked PATIO on enclosed plan set to hard area such as slab or wet pour concrete. From its commanding position approximately 1.8 metres higher than the ground area of the Village Hall, the patio will provide a hub for the whole site, the centre for outdoor socializing and Village Hall events.
Provision will be made for up to 40 people to sit and enjoy the views and activities. Seating to be Chairs already belonging to and stored by the Village hall, with the addition of built in benching on the patio area. Also see Seating below.
For wheelchair users the patio will be accessed from the car park by the main side path shown on plan marked with wheelchair symbol. Access from the kitchen patio area will be via steps shown as ladder symbol on plan. More detail of Patio to be included in further stages of design once there is an all round agreement in principle to the basic idea.
B-B-Q
It is suggested for safety and practical reasons that the B-B-Q be sited on or near the proposed kitchen patio. The B-B-Q could be of a brick built construction. People intending to eat up on the patio site would only have a short distance to travel to collect hot food via the steps leading down from patio.
Low level play area
Surrounded by dog proof picket type fencing and accessed through a gate from the patio. This play area will cater for mainly for children between the ages of four and ten. Secure and easily supervised by parents, this area can be furnished with low level play equipment including wobble boards and balance bars, spring mounted rides and see-saws, swings and slide. All structures with play height above 200mm will be surrounded by soft play surfacing (hot pour rubber)-see example illustration.
Seating
Benches to be placed around site as required. Not shown on interim plan, but generally next to activity areas. Constructed of heavy duty hollow section steel (see illustration page), the Manufacturer's offer lifetime guarantees against vandal damage. The benches are low maintenance, set into concrete, and easily strimmed round to cut grass with the minimum of effort.
Bicycle Racks
The plan shows two parking areas for bicycles-one beside the village hall, another at the other end of the site next to the tennis court, as shown on plan. Facility for up to six bicycles per rack. Made of concrete, they will remain secure, and present no maintenance requirement.
Paths
The site has existing pathways which in the main can be kept and updated. Particular attention to be made to the path running parallel with the road (shown with red line and white arrows at the bottom of the plan), traversing the length of the site, from the car park entrance to the bottom corner. The path is already surfaced with tarmac, and should be re-instated. All paths shown to be resurfaced or re-built with hard surface material i.e. compressed Hoggin. Other paths unless shown on plan will be grassed underfoot as they are now. As described previously, the main site entrance path from the car park will be enlarged and upgraded to allow wheelchair and mowing machine access in addition to ordinary foot traffic.
Planting
Existing trees and vegetation to be surveyed and evaluated. Our policy is to retain, move and re-use as much original material as possible within a site. The plan shows the areas of the site furthest north have had substantial amounts of vegetation removed to facilitate the positioning of the tennis court and football pitch. Much of this, including Chestnut trees, will be replanted on site, especially along the road boundary to further increase sound proofing for the benefit of nearby properties. The approximate position of the nearest properties is represented on the enclosed plan.
We suggest a certain amount of tree clearance, mainly Sycamore, in the wooded areas surrounding the Village Hall. This work will leave space and scope for replanting trees from elsewhere on site. The plan shows the site with much of this clearance work done, but not with replanting work undertaken to allow for a clearer view of the ground planning.
Kitchen Patio
The existing patio area outside the kitchen would benefit from a "re-vamp". Area to be cleared and simple patio built. Provision to be made for a lockable outside tap drawing water from the kitchen.
Security lighting
Lighting to be installed at strategic points on the building to cover sides and rear of building, B-B-Q area and service paths. Motion or Infra-red sensors to be installed as required. (Infra red is more suitable in situations where wind blown vegetation triggers lights). Switchable low voltage safety lighting would also be required on paths around building and up steps and path to patio area and low level play area for evening events. All lighting can be powered from the existing supply inside building. It is not proposed to provide floodlighting at this time for the sports areas, but provision of space to be left for installation if required in the future.
Landscaping
Landscaping will be kept to a minimum. Other than formation of grassy mounds with excavated soil, construction will extend only to the areas fulfilling the brief of Gt Bealings Parish council.
Mowing
At present undertaken by Suffolk Coastal District Council. It is important that as much of the site as possible can be accessed and continues to be mown by the council in the future. This will reduce the requirement for voluntary maintenance. We propose improving access for the council vehicle and trailer, and will widen the path to be upgraded for wheelchair access from the car park to facilitate entry of the mowing machine onto the playground site. Grassy mounds constructed from spoil out of sports pitch excavations to be made "mowable". As far as possible the proposed site has been planned to facilitate as much Council mower cutting as possible. There will, however, be a periodic need for some strimming to be carried out.
Bin store
Positioned at the farthest end of the Village Hall from the entrance. Convenient for kitchen and B-B-Q waste, and easily accessed by refuse lorry. Constructed of wooden panels or boarding with a gated entrance. To contain standard or "Wheelie" type bins.
Litter bins
Suitable for standard black bin liners. These are constructed from hollow section steel in the same style as benches described above. Two bins are to be provided, positioned as shown on plan. Detail of bin on illustration page. The litter bins also facilitate easy strimming of surrounding grass.
Phasing
There are three possible elements of the development work that could be phased.
Initially, we would need to create access for our machinery and erect safety fencing and signs where required. The broad areas of site works are:
Excavation works and leveling, followed by seeding of football pitch. Clearance and re-location of trees and vegetation around the site as described above. Attention to footpaths, the preparation for surfaces for play areas and patio.
Hard landscaping, which includes all construction and fitting out, excluding tennis court.
Construction of Tennis court and installation of associated equipment.
Given agreement is reached between all parties on the interim design elements presented here, we will be in a position to give an estimate for each phase separately.
I can be contacted directly on 07711 509584 If you have any questions please do not hesitate to call.
Charlie Gooda
[ Home ] [ Up ] [ Play Photos ]