Festival of creative arts and produce
The weekend is part of the strategy of The Friends of Great Bealings Church to ensure that this lovely building and peaceful churchyard remain part of the Bealings landscape for years to come, and that all those who live in the village should feel a sense of ownership of and responsibility for the vibrant survival and upkeep of what is the only public building in our village - regardless of whether or not they subscribe to Christian beliefs. The church is a village treasure, and not exclusively the domain of those who choose to worship there. Hence the present day use of the building for a wide variety of purposes: this festival, concerts, talks, wildlife activities - and anything else you might come up with.
We have spent significant sums over recent years, updating the facilities: laying on running water, constructing a kitchen unit, toilet and store room - even the installing a wild-life observation cabin, which will double up as a visitor centre for those visiting graves,- to say nothing of our plans to extend the car park, and to make access to the main church entrance safer. This all costs money, hence the unremitting efforts of The Friends of Great Bealings Church to raise more.
So while we hope that as many people from our village will support this event, we also hope that visitors, from other villages in the Benefice and way beyond, will join us in this enterprise, and enjoy being part of this weekend's activities. All are warmly welcome. Enjoy the occasion, and thank you for your support.
An 8 page programme (Front cover illustrated below) is available (from Norman Porter) outlining all the events and timings of the Creative Arts weekend. We hope that the weather will entice you along at some time over the weekend and that you will find events, displays and refreshments to enjoy. The £5 cost of the programme includes tokens for one barbecue lunch, and one morning coffee, or one afternoon tea - not that you need to limit yourself to that!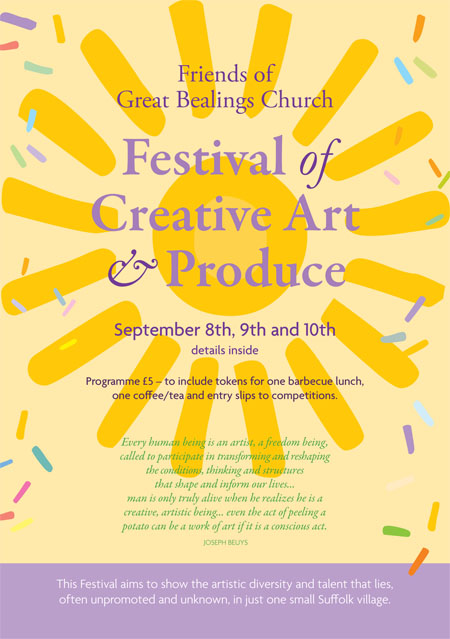 Friends of Great Bealings Church
Festival of Creative Art
September 8th, 9th and 10th
Launch on Friday 8th at 6.45 onwards -
An evening of song, dance and words.
Annesley Hall, Boot Street
Tickets (limited) at £10
Refreshments
Saturday and Sunday - 9.00 - 5.00 - open throughout
Plenty to do and see - and eat
Includes Suffolk Historic Churches Cycle Ride
Open to all - do pop in to see us
Paintings, drawings, wood craft, jewellery, photography, lego - some for sale
Harvest-themed displays invited:
up to 12 vegetables, up to 12 fruit, up to 12 flowers
- and/or a Hedgerow Extravaganza - deliver to church Friday 8th pm
Also LIMERICK COMPETITION - on related theme
Family trails inside and out
Musical performance Saturday afternoon 3.30 -
Art Masterclass Sunday afternoon 2.00
Programmes available @ £5
- to include tokens for coffee/tea and barbecue lunch
- and full schedule of events
Available on application to Norman Porter
or 01473 735565