Bealings Jubilee Jamboree Japes - 4th June 2012
The morning dawned bright and sunny….
Actually it rained and rained and rained. By 11am however things had brightened a little, tents were erected, bunting hung and most of the hog roast had arrived!
The pudding and salad table began to groan quite quickly and the bar was in business.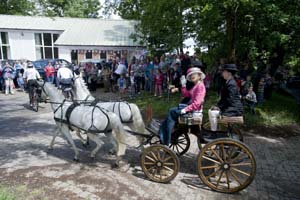 At 12.30 the traffic was stopped and five outriders on bicycles (looking like a cross between the Blues Brothers and dodgy secret service men, whose car had broken down somewhere) swept into the Village Hall Car Park.
They were followed by "Her Majesty The Queen" in a trap pulled by two grey ponies. She was greeted by "HRH The Duke of Edinburgh", showing no signs of his impending hospitalisation and a hushed, overawed, (quite possibly bemused) crowd.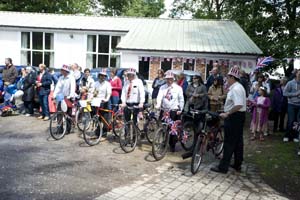 The Royal couple inspected the outriders who stood to attention and then proceeded to the field where, on behalf of both villages,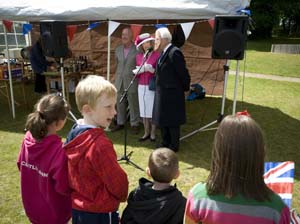 Mr Eric Barnett, chairman of Great Bealings Parish Council made a short speech of welcome. "Her Majesty" then made a short speech and the festivities officially commenced.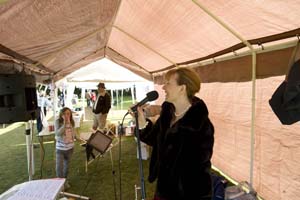 The hog roast, salad and puddings disappeared rapidly, many families sharing the communal tables, with others dotted about the field. Patriotic music accompanied the festivities thanks to Chris Mason's valiant efforts, followed by Kelly Pritchard singing songs from the earlier parts of the Queen's reign. Kelly sang beautifully and then judged the Best Dressed Hat Competition,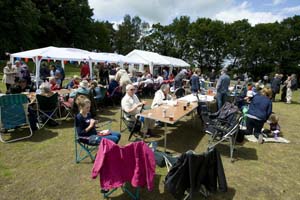 won by Reggie, with his London landmarks hat. Patch won the Best Dressed Wheelbarrow with his festive pompoms and streamers (and the cardboard corgi sulked a bit!).
Kelly's brother Philip who is currently appearing in the West End also sang, prior to his trip to perform in Canada
Football was played with much enthusiasm and almost as much skill, by children's and men's teams. Thanks to Phil Double for kit and refereeing. First Aid was not needed but a few bruised shins were in evidence.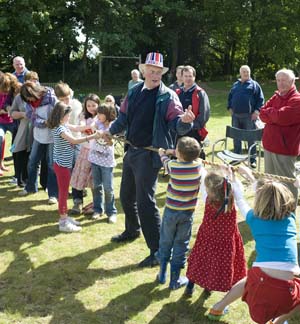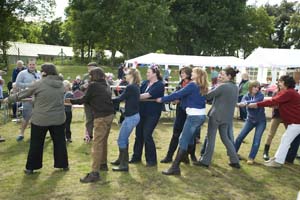 Little Bealings won the Tug of War in both the Women's and Men's rounds. Great Bealings won the first leg of both but were then over-powered by the superiority (in many ways) of the Little Bealings residents in the second two legs!
Malcolm Watson our resident photographer perched precariously on a ladder with several small boys playing football below, to take a village photo. He survived to tell the tale! Larger copies of the photos can be downloaded by clicking any of the photos on this page and then saving them to disk with File.. Save.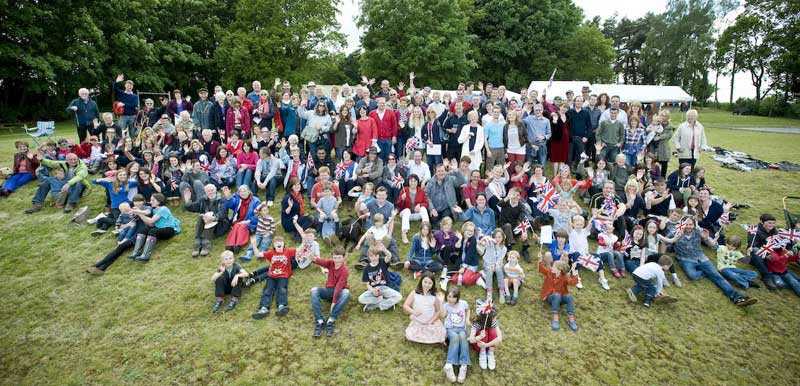 The day came to a close with a rousing rendition of Jerusalem, Rule Britannia and some inexplicable bobbing up and down. Flags were waved and the sun shone at last!
With many thanks to everyone who came to help celebrate the Jubilee, to Grove Farm Residents Association for sponsoring members' tickets and to everyone who bought hog roast and drinks in aid of Help for Heroes; we raised £400 for their very good cause. Thanks to Margaret and Roger "Windsor" for their contribution to proceedings and their driver Fiona Powell. Thanks also to Jaz and Ros from the Admiral's Head for the refreshments & venue for planning meetings, coming to the rescue with rolls and bread when we were overwhelmed with demand for hog roast and for supply of the delicious Adnams!
To the five anonymous (their own choice) Secret Service men, thank you and to Vicki and Peter Carr for the delicious cream teas served during the afternoon.
A brilliant village day in honour of HM Queen's Diamond Jubilee.
| | |
| --- | --- |
| Words: Jenny Cavell - Shaw | Photos: Malcolm Watson |
Other Photos from the day